Coaches have until April 16th to contact players.  Please be patient!  It was especially difficult to recruit coaches this year.  We are very thankful for the 40+ community members who did volunteer their time to coach and complete the required training to make this year safe and successful!
**Practices can start May 1st – days/times/location will be up to each coach; Games will begin week of June 1st – schedules coming soon.
Click here for more information about the requirements for coaching and important dates.
AVOID THE WAITLIST—Register Online by March 15th with a late fee to guarantee a spot in the 2021 Season.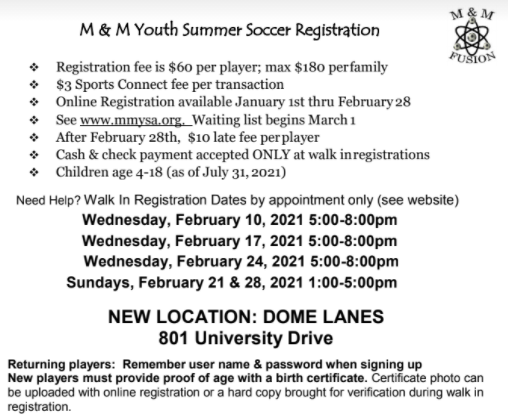 If you are unable to register online, please email contact@mmysa.org to schedule an in person appointment during the available dates and times listed above.