PICTURE MAKE UP DAY (For those who were not able to make picture day)
Thursday, June 17, 2021 6pm-8pm at JV Soccer field (garage area)
Online orders need to be placed by June 18, 2021  https://martinphotography.ordersportspix.com/    Go to Menu and click Marinette Soccer Makeup Pictures 2021; password is prepay
      PLEASE REMEMBER
 THESE ARE KIDS
THIS IS A GAME
THE COACHES ARE VOLUNTEERS (THANK YOU!!)
THE REFEREES ARE HUMAN
THIS IS NOT THE WORLD CUP
Thank you,
MMYSA Board
Click here for more information about the requirements for coaching and important dates.
AVOID THE WAITLIST—Register Online by March 15th with a late fee to guarantee a spot in the 2021 Season.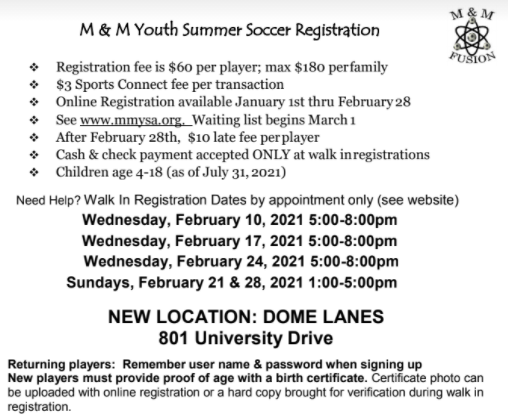 If you are unable to register online, please email contact@mmysa.org to schedule an in person appointment during the available dates and times listed above.